The official wine region of Judea lies sandwiched between Tel Aviv and Jerusalem, those two contrasting cities that define modern Israel. It is framed by the sea in the west and the mountains in the east. The Mediterranean and Jerusalem Mountains are main features that contribute to make this such a unique terroir. This region is also a symbol of winemaking in the Bible, when the Judea was regarded with the reverence of Bordeaux of ancient times, in terms of both quality and quantity.
The association of Judea and wine began a long time ago with the Patriarch Jacob's blessing of his son Judah. This earmarked Judea as a bountiful region of wine, and this is what it proved to be. As Amos the Prophet wrote so poetically "the mountains shall drip sweet wine and all the hills shall flow with it." Today curious wine tourists may meander through the Judea region in our times, and chance upon ancient terraces where vineyards were once grown.  It is quite likely they will stumble over a flat limestone basin, where the grapes were once trodden by families and wine was made. To have the opportunity to see these relics of ancient winemaking, is a stirring and moving sight.
This article previously appeared in the Jerusalem Post
One of the most famous visitors to the Holy Land in the 19th Century, Sir Moses Montefiore, wrote about Judea, that "Everything is planted with vines and olive trees….It is impossible to imagine a richer and more beautiful land." However, when Baron Edmond de Rothschild sponsored the planting of vineyards to found a modern wine industry, his focus was more on the Coastal Plain. It was not until the mid-1950s and 1960s that new vineyards were planted in the Judea region, but these were high yield vineyards for volume, inexpensive wines supplying fruit to the country's large co-operative.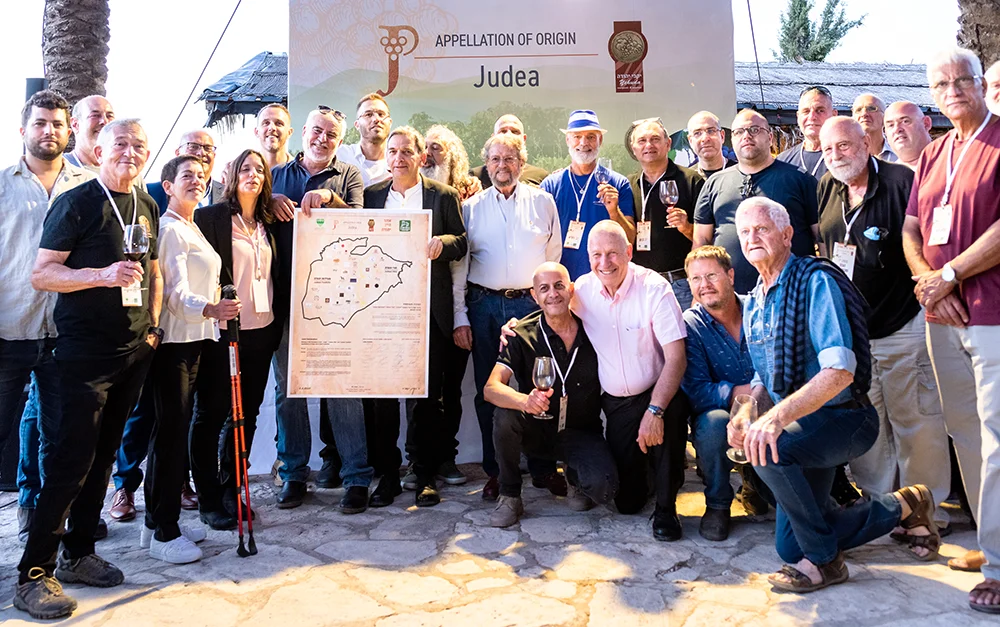 The Judea Region, which boasts about forty wineries, is divided into the two sub regions. The rolling hills that lead from the Coastal Plain form the 'Judean Foothills.' There are no lack of vineyards and wineries in the Judean Foothills and it is one of the most planted wine regions in Israel. After Beit Shemesh and Route 38, elevations then sharply rise on the way to Jerusalem. This sub region is known as the 'Judean Hills.' In the mid to late 1980s, two enterprising pioneers, Eli Ben Zaken and Ronnie James gave the first focus to the Judean Hills vineyards. The founding of Domaine du Castel in 1992 and Tzora Vineyards in 1993 were the turning points. By the 2000s it was understood that the Judean Hills was an outstanding appellation for high quality wines producing white wines of good natural acidity and minerality, and red wines with an elegance and freshness. 
Vineyards are generally small, either on a slope or a little valley, often surrounded by a nature reserve, woods or a forest. Around the vineyards are clumps of garrigue, a Mediterranean scrub and wild Mediterranean herbs like oregano, sage and za'ater. There are also beautiful wild flowers, particularly in the spring. There are constant winds from the Mediterranean, which are channeled through the valleys until they reach the Judean Hills. These are backed by the Jerusalem Mountains, and cool air circulates from these to the wadis of the Judean Hills providing cold spells and a big difference between day and nighttime temperatures. 
The Judea Wine Region is responsible for a few firsts in Israeli wine. It was the first region to promote wine tourism. The local council and wineries organized their first regional event way back in 1998. In 2001, they formed a Judea Wineries Club. These days they promote local festivals, professional seminars and other activities to advance the wines of the region. More recently, the Judea Wine Region became the first in Israel to receive formal recognition as an Appellation of Origin. This is the first such recognition in Israel since the Jaffa Orange became a protected brand. Wine producers will now be able to label their wines with 'Judea', 'Judean Foothills' and 'Judean Hills, if at least 85% of the grapes in the wine come from the protected area. They will show this with a certification stamp that will be put on the label. 
Throughout Judea there are wineries to visit and places to taste and buy. It is therefore very convenient to take in a winery or three, on a journey to or from either Tel Aviv or Jerusalem. Within the Judea Region, reside two of the largest four wineries in Israel, Barkan and Teperberg. The oldest winery is Domaine de Latroun, at the monastery, which was founded in the 19th century. Many of the wineries are small idiosyncratic individualists. Kerem Barak Winery produces mainly Pet-nats ('petillant naturel' wines) and Sphera only white wines. Kadma Winery ferments their wine in qvevri – large amphora, like they do in Georgia. Bravdo is a genuine estate winery with the vineyard encircling the winery. There is even Mony Winery which is owned by an Israeli Arab family, situated at a monastery and produces kosher wines. They also have excellent olive oil!  In 2017 the Judean Hills Quartet was founded. This is made up of four of the very best wineries (Castel, Flam, Sphera, Tzora), which have received worldwide recognition. They have succeeded in bringing a great deal of international attention to the Judean Hills. If you take Hugh Johnson's Pocket Wine Book as a guide, of Israel's five highest ranked wineries, four are from Judean Hills. Out of the top twelve wineries, six are from Judea.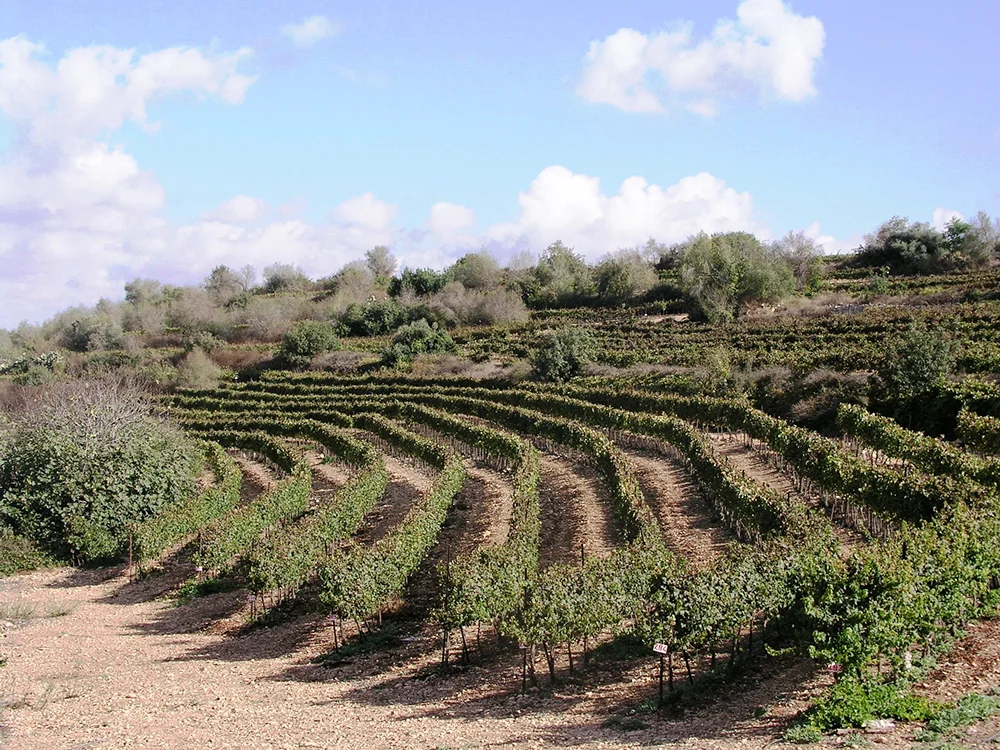 In the Judean Hills, in what is also referred to as the Jerusalem corridor, there are places to hike and picnic.  Villages include Shoresh, Newe Ilan, Kyriat Anavim, Ma'ale Ha'chamisha and Beit Zeit, which are peppered with vineyards. For those seeking a good hummus and quality Arabic cuisine, Abu Gosh is a haven. Most tourists will most likely use Tel Aviv and Jerusalem as their base, but there is accommodation within the region. For instance there is a hotel on the kibbutz  where Tzuba Winery is situated. You can be a wine tourist by day and enjoy the nightlife and culinary scene of Tel Aviv by night. Alternatively, you may begin the day with a visit to Jerusalem's religious sites or museums, followed by a visit to a winery. There are enough wineries of different sizes and styles to fill a week of wine tourism. However, not everyone wants to go through a full day of just visiting wineries. In the Judea Region, there is also the opportunity to pad out a day with gourmet tours. There are micro-breweries breweries and craft distilleries, artisan goats' cheese producers, olive oil presses and tahini producers; organic farms, even a chocolatier. Any of these may be added with the wineries to make a gourmet tour.
To prove to me the sheer variety of options, the Matte Yehuda tourism maestro, Barak Katz, invited me for a gourmet tour. He is a pearl. Dynamic and knowledgeable, he has a vision and the quality of his work shows in everything Judea does to develop wine tourism. He gives an example which should be followed by every other wine region in Israel. We met at the aforementioned Kerem Barak Winery and opened the morning with a tasting of five Pet-Nats. In fact, we sampled white, orange, rose and red examples of the genre. I call these 'hipster's champagnes' or 'beer drinker's sparkling wines.' Fun, irreverent and out of the box. It was a great start to the day. We then went to the Iza Pziza Goat farm and dairy at Tal Shahar. The goats had plenty of space and looked relaxed and happy. By contrast the visitors' center was heaving! The display cabinet was packed with cheeses of different types and the fridges full of goat's milk and yoghurts. Very impressive and very tasty, especially with a glass of wine!
Next to Srigim-Li On and 'Agrocafe.' This is an amazing start-up which is a joint venture between growers in Colombia, combined with Israeli chutzpa, technology, drive and innovation. What I visited was a coffee shop, café and a place for studying, tasting and talking coffee. In the background they were roasting coffee beans. It is a world so similar to that of wine. Certainly, it is a good place to learn at one of their excellent coffee workshops. Around the corner we enjoyed a refreshing beer at Srigim Brewery and Beer Garden. We were overlooking Ela Valley, where David fought Goliath. It is remarkable in a modern, technologically advanced country, to stumble across the places and names from the Bible. I loved the IPA, but the Pomegranate Beer was the most unique. Almost as an afterthought I was shown their still and was given a dram of their Drunken Owl Whisky! It was very good, though still young. Then we drove to Tzur Haddassah. I was led through a leafy back entrance, to meet the Tavlin Distillers. We sat in the garden. Our hosts were charming, hospitable and chatty. Their product was very artisan to say the least. I asked to buy a bottle, and they had to rush home to fill it. They sell some of their gins with a rudimentary cork stuck in the bottle like an already opened bottle of wine and others with waxed closure. Both are the same price apparently. The hand-painted pottery bottles from Hebron are beautiful and original though, and their London Dry and Floral Gins were attractively aromatic. Just check if you are purchasing that you get the finished rather than unfinished version!  If you want to be pleasantly surprised ask for their beetroot eau de vie! We ended up at the Soreq Winery with a chilled rose, a style of wine becoming very associated with Israel. This is a winery, winemaking school and custom crush center. Many of Israel's future winemakers cut their teeth there. So in a short day, packed with content, we delved into wine, cheese, coffee, beer, whisky and gin. Each was created by a pioneer with passion and individuality. Part of the fun of the tourist is the extract the uniqueness of each particular story. And then you have the culinary side which you can add into the mix.
The message is that the wine region of Judea is an agricultural paradise. Beautiful countryside, enterprising agriculture, mixed with a variety of local, ethnic cuisines, using locally grown produce….and above all, the region is awash with vineyards, wineries and wines. This is the very heart of Israel and the center of Israel wine growing. For the wine tourist, Judea is the essence of modern Israel, a reminder of ancient Israel, and the source of some of our finest and most interesting wineries. A mere hop, skip and a jump from Ben-Gurion Airport, and a short ride from both Tel Aviv and Jerusalem, lies a wine and gourmet region that just demands exploration. 
Adam Montefiore is a wine industry insider turned wine writer, who has advanced Israeli wines for 35 years. He is referred to as the English voice of Israeli wine and is the Wine Writer for the Jerusalem Post. www.adammontefiore.com